Build salon app
The hair salon market has rapidly and successfully established itself as a distinct player in the internet business arena. How you present your beauty services to the world is an essential part of the game. The online medium is the most effective medium today for reaching your target audience in no time. You should choose Builder.ai if you want a compelling development platform to build a salon app.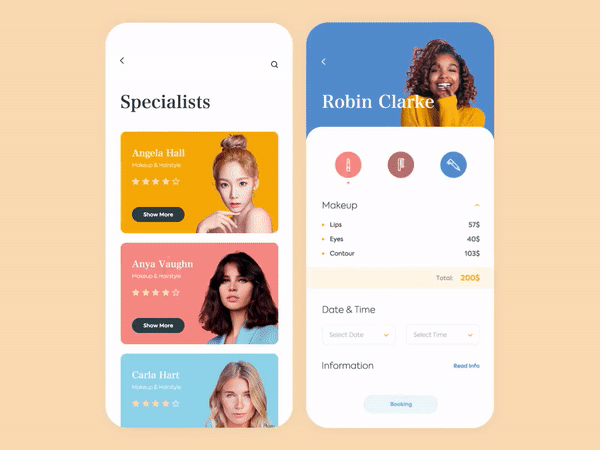 Listed below are a few reasons how salon apps are changing customer behavior:
1. What is the purpose of the Mobile App itself?
The term "digital marketing" does not imply that you should merely have a website to which you direct your clients' attention. It would be best if you continued to be where the world is moving toward digitalization. Smartphones are becoming more popular for surfing the web rather than desktop computers. As a result, a permanent presentation of your services via an engaging app may significantly increase your chances of winning their hearts and minds.
So, to reach a larger client market for your beauty and hair company, you must first establish a presence on their cellphones, which is possible with a mobile application. Customers now look forward to apps to avail beauty and hair salon services.
2. Short-Notice Appointments
Most people do not have the time to schedule appointments regularly at your beauty and hair salon, especially corporate clients, who can quickly become your most loyal customers if you provide high-quality services. So, if consumers can make their appointments electronically, they will refrain from visiting salons that do not offer the option to book salon appointments online.
It will allow you to retain your prospective customers for an extended period. It will also enable you to obtain their email addresses and other contact information for prospects.
3. Communication on time
You won't be able to thrive in any company if you do not understand the art of customer retention. A mobile app will give you and your clients a platform to connect directly and have a clear communication path. So, the mobile app keeps you connected with your customers around the clock, ensuring that you never miss out on one of them due to a lack of communication.
Generally speaking, the easier your booking procedure, the greater your success odds. Connecting your company with the appropriate digital marketing platforms helps you enhance your business swiftly and reach a broader audience in a concise amount of time, saving you time and money.
Ideally, you should include a strong connection between your Facebook, Twitter, and other social media platforms with your mobile application to allow your customers to view and book your services more quickly and easily. The ideal way to narrow down your audience and target your marketing efforts is via social media sites, giving the perfect way to get the best-expected outcomes. In the actual world, you will never be able to receive this precise marketing.
5. Visual Effects
The use of visual marketing is perhaps the most effective kind of marketing in the digital era. If done correctly, it has the potential to reach an international audience for your company. Posting photographs of the most fashionable haircuts or entertaining your audience with how you work in your office to attract them will help you succeed in your business.
The app is user-friendly and provides a compelling display of your service packages. In addition, it's crucial to remember that graphics might be marketing-sensitive; for example, although a good picture can increase consumers' interest in you, a negative visual can harm your salon's image. As a result, it will be critical to post visuals with caution while maintaining a social media profile.
A mobile application for your beauty and hair salon company that is both user-friendly and visually appealing will be able to engage your audience efficiently and encourage them to use your salon services intelligently. Targeted marketing on social media forums gives you a platform to show your products and services as often. It helps you retain old clientage and engage new customers.
6. Increase your consumer market – the possibilities are endless.
A mobile application allows you to exhibit your company in a worldwide market environment. Now you have the opportunity to grow your company in the manner you want.
Conclusion:
If you are committed to advancing your career in the beauty and hair salon industry, developing a mobile application for your company will undoubtedly be the first and most crucial step toward your future success. Now you can focus on growing your company without being distracted by uncertainty or research limitations. Build a salon app using Builder.ai and digitize your business today.